Hi Lovelies! Recently I watched the MIB 3, I was excited to watch it because I always love Will Smith & like both of the previous MIB movies!
So perhaps I didn't really see the preview carefully, or what, but I didn't know that this sequel was actually about time traveling.
Basically Boris wants revenge from Agent K, so he decides to travel back in time and kill him.
I was expecting some more acting from Tommy Lee Jones but, was a bit disappointed. As the majority of the film is Agent K in his younger self. ( PS, I don't know why but tommy's eyelid seems to cover half of his eyes all the times, making him look sad the whole movie... perhaps he is a bit old now for acting? first MIB was 1997, and MIB was 2002. So it's actually been TEN years since the last MIB... times flies..)
When Agent J found out what happened, he has to go back in time to save K, but one of the thing he had to do is SKY HIGH JUMPING! ( look at his face, he makes me laugh! haha)
Another thing that lacks in the movie is ALIENS. I mean of course BORIS is an alien ( there few others in this movie), but I think for the past MIB movies, there has been a lot more variety of aliens, compare to this one. Time travel to 1960's is kind of funny and interesting as the MIB has not been as developed yet, but for some reason they had the super cool motorcycle that MIB don't even have now in the current time! ( I speak as if they actually exist, ha)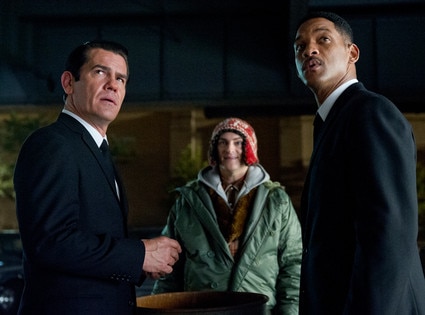 Everything did not seem to go so well in the 1960's. But they did have an alien friend who appears to be just like human. He has a supernatural power to see the infinite possibilities of the future! At the end someone will die.. but who? I won't tell you, but it's a bit sad..
Overall I rate this movie: 4.2 stars. The plot is not complicated but I think the details are pretty well lay out. There might not be so many surprising new aliens but Will Smith always make things work with his comedy acting! I felt the movie was like a stimulation ride, it's not crazily intense, but very fun to watch.
Are you a MIB fan?
Did you watched MIB & MIB2?
Will you watch this movie?
Leave a comment to show that you care!