Hi Lovelies~ Today I want to share my review for
" The Hunger Games"
. I remember seeing the preview long time ago and was not impressed. When the movie came out, everyone seems to be talking about it. To an extent that I feel I should watch it.
The plot is really transparent, basically a bunch of rich people decide it's ok to watch a game of people killing each other. The time setting seems to be in the future, but the characters seems to have a common sense of the past. ( I mean, isn't it common sense that it should be illegal for people to play a game of death?)
In the beginning the poor are randomly chosen to be the Tribute of this reality game. They're divided into districts and each district have two contestants.
The main character Katniss volunteers to be Tribute because her little sister was chosen. They were treated like superstars with full make over, costumes, nice hotel and meals for this " reality show".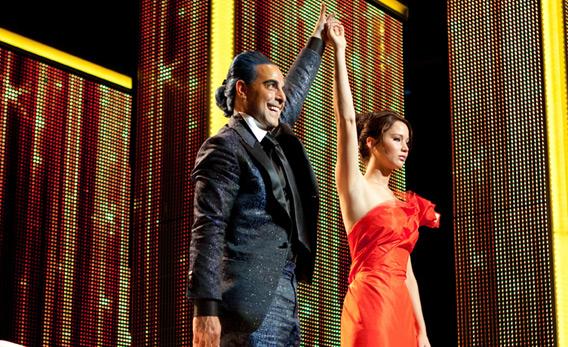 Of course, there were times that the scene got intense as these contestants are fighting for their lives. However, overall, it's a pretty slow movie.
I would not recommend this movie, because it's over hyped and content is much lower then expectation. I actually fall asleep half way through the movie. Maybe I was tired but while I was awake, I found the rest of the movie quite slow. I give this movie 2.5 stars for being an ok movie. I thought the ending was lame too, although I think it's a " happy ending" but having a twist instead should have been more (expected, for me) and interesting.
Did you watch this movie? Would you?
Leave a comment to show that you care!