Hi Lovelies! It's been a few days since I blogged.
I felt so busy over the weekend cause I was basically mass cleaning my place for kitties! To make sure I have space for their restroom, bed and food. Basically my mom couldn't take care of her cats and wants me to take them in. Well ~ honestly I always wanted a DOG instead of a cat because I think dog plays with human more, but of course needs more attention like dog walking and stuff. I so never end up getting a puppy 'cause I am so busy. VS cats they can take care of themselves more. Right now they're still not here yet cause I have no time to take them to cleaning and stuff before they can officially move in with me! ( it's annoying 'cause pet shops needs the cats documents but my mom can't find them. blah blah) But I am little excited about that, it's been ages since I have a pet!
But Anyways... Let's go on to the movie review..
So Underworld 4, I think I am going to judge it as if it's a single movie instead of a sequel to another. Reason is because I can't really remember what happen in the previous movies or if I did watch them all.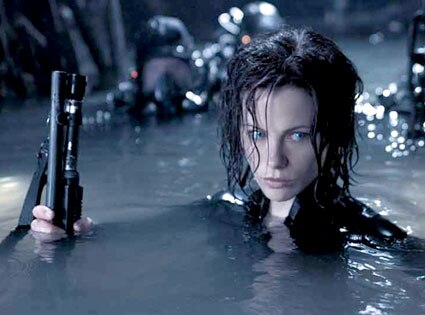 Plot: Human hunted down all vampire and Lycan Clans & supposedly live in peace for years. However, there were a few that was captive in lab for secret"testing" until Selene got out. A new being was created to be more powerful over all, there opens the war between human and vampires.
The actual action of the war was not much, it ended before I knew it. The movie was kind of short, at the end, it was obvious there will be another sequel to this. I honestly think this movie is turning into a drama....
Of course the overall effects are good. There isn't much plot to follow, mainly just action. There are obviously much violence since it's a vampire movie.
Overall I rate this 3.2 stars.
Majority for it's effects. It doesn't have the end of the world type of major catastrophic effects, but rather small things like sticking hand into the body to massage the heart... where it's impossible to act but looks real on screen. Unlike majority of vampire movies, it's not really about blood but about the species in general, they seem more like just supernatural beings then vampires.
I don't think this is worth a trip to the theaters, but if you're a underworld fan, then why not, it's still pretty good ( as a drama!) !
Like this Movie Review Post?
What movies are you planning to watch?
Leave a comment to show that you care!